There are always plenty of things to do in the Metro Atlanta Area, but in the small suburb of Fairburn is one event we don't think you should miss this spring; the Georgia Renaissance Festival. The charming town of Fairburn is just a few minutes from our Bed and Breakfast in Georgia in Fayette County. What better thing to do this spring than to combine a visit to the Georgia Renaissance Festival with a relaxing stay at the Pleasanton Courtyard Bed and Breakfast?
Located just about 30 minutes southwest of Atlanta, our Bed and Breakfast in Georgia is a truly luxurious retreat. Whether you have a romantic occasion you want to celebrate with your special someone or are just looking for a place to unwind for a few days, you won't find anything like the elegant accommodations at our Georgia Bed and Breakfast.
Our Bed and Breakfast in Georgia offers just four guest rooms, giving you that feeling of your own private oasis with all the creature comforts of home, but none of the work that comes with it. Lounge poolside at our seasonal pool, soak in the hot tub or enjoy time in the sauna, walk our peaceful grounds, and leave all your stress and worries behind. Let us take care of you this spring – whether or not you have some fun at the Georgia Renaissance Festival. Book your room at our Bed and Breakfast in Georgia today!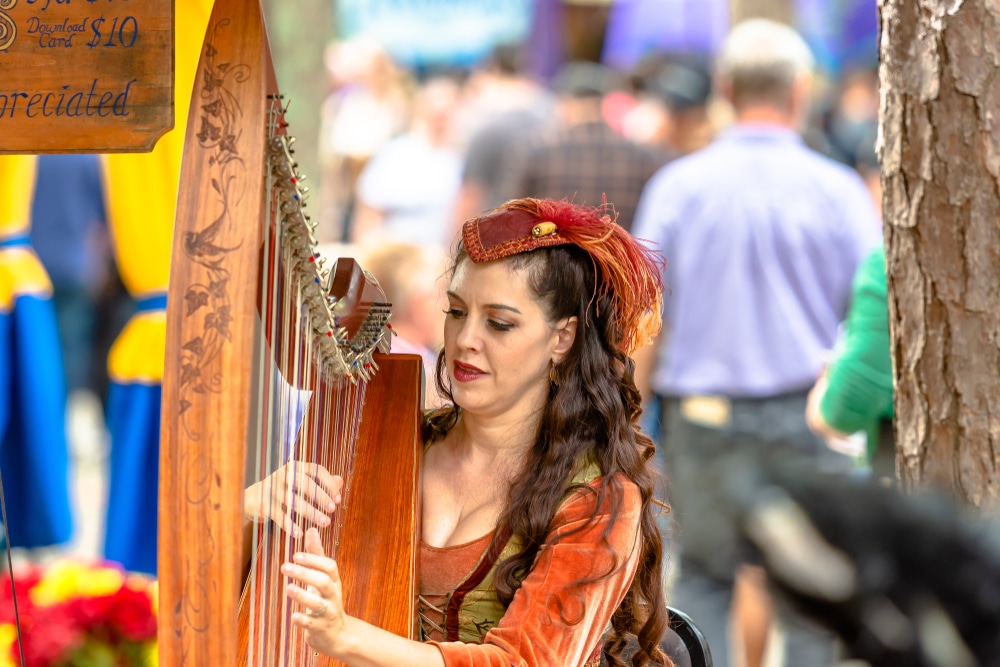 Attend the Georgia Renaissance Festival
The Georgia Renaissance Festival is a popular event held each spring, and 2022 marks the 37th year of this fun tradition. This year, the Georgia Renaissance Festival will be open every weekend from April 9 to May 30 and seeks to recreate England's renaissance of the 16th century, during the reign of King Henry VIII. Whether or not you get dressed up and join in the festive merriment, there are plenty of fun things to do at the Georgia Renaissance Festival. Each weekend has its own theme, too, so you can change the experience from week to week if you're so inclined.
There's a variety of entertainment scheduled for the Georgia Renaissance Festival this year, including the always popular jousting competitions. The jousting tournaments take place every weekend, so there's no worry you'll miss out on the fun. Other fun to look forward to during the Georgia Renaissance Festival includes pub crawls, acrobats, comedy, live music, etc.
Aside from being well entertained by Renaissance enthusiasts, the Georgia Renaissance Festival is also a great place to pick up various handmade goods in the Artisan Market. More than 150 artisans make their way to the Georgia Renaissance Festival each year and offer a beautiful array of high-quality goods, like clothing, pottery, and jewelry. There are even live demonstrations throughout the festival.
Throughout the Georgia Renaissance Festival, indulge in the many delights offered by the festival operators. There's a diverse food and drink menu, including the legendary turkey legs and a selection of beer, mead, wine, and other beverages. Tickets for this popular festival are currently on sale.

Unwind at the Best Bed and Breakfast in Georgia
Though the Georgia Renaissance Festival promises to be plenty of fun, the real reason to escape to the southern metro region of Atlanta is the chance to stay at our upscale Atlanta Bed and Breakfast. We offer guests a choice of 4 well-appointed guest rooms, each of which is decorated uniquely and outfitted with a broad range of high-end amenities.
Aside from the luxe accommodations, what you'll really find at our bed and breakfast in Georgia is the peace and quiet you crave. The rural nature of our property is designed to be your respite, where you're free to stroll the green lawns, fish on the lake, relax at the seasonal saltwater pool, take in a movie in our theater room, soak in our indoor hot tub, or cuddle up on the wrap-around porch.
The hospitality doesn't end there, though. We'll treat you to a scrumptious breakfast featuring a rotating selection of our favorite recipes in the morning. We're also happy to cater to vegan diners, and those with other dietary preferences, provided it's noted at the time of reservation.
We go above and beyond and tend to every detail of your stay to ensure your time here is equal parts relaxing and memorable. Whether you choose to attend fun events like the Georgia Renaissance festival or explore the bustling city of Atlanta is entirely up to you. If you need a little bit of "you" time this spring, it's time to book a room at our luxury Bed and Breakfast in Georgia.