If you're heading to the South Metro Atlanta area anytime soon, there's a hidden gem in Fayette County that's all about relaxing, kicking back, and hitting the links. There are so many fantastic things to do in Peachtree City—walking and golf cart trails, lakeside recreation, delicious dining opportunities, and a local amphitheater for live entertainment and concerts.
As the largest city in Fayette County, you'll find plenty of fun things to do in Peachtree City, GA. It's near impossible to talk about visiting Peachtree City without making mention of the golf cart trails. More than a third of residents here own a golf cart, and nearly 100 miles of interconnected trails spread across the area—the paths are also used by walkers, cyclists, and joggers. The city has fully embraced this mode of transportation, offering dedicated parking lots and golf cart rental businesses available to visitors.
Our Georgia Bed and Breakfast is one of the best places to stay for those planning an upcoming getaway to this area. While we're located in Fayetteville, GA, about 15 minutes from all of the best things to do in Peachtree City, you'll have complete privacy and quiet space to make your home base. With four elegantly appointed guest rooms in our spacious Victorian-style home (equipped with an outdoor saltwater pool), you'll feel like you have our serene oasis all to yourself. Book your room today!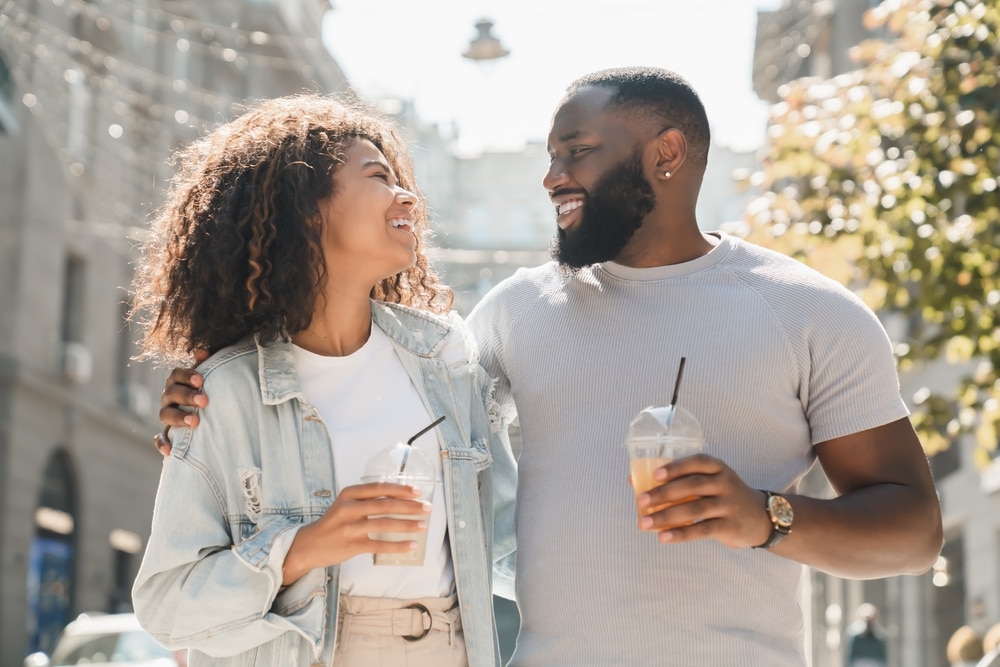 The Best Things to do in Peachtree City
This charming town in the South Metro Atlanta area was specifically planned as a resort town with lakes, country clubs, nature trails, and great shopping and dining at The Avenue. You could easily spend an entire day here, exploring all the best things to do in Peachtree City. Be sure to join us for our gourmet morning meal at our Georgia Bed and Breakfast before setting out on your adventures.
Here are the top ten things to do in Peachtree City during your stay:
Catch a show at Frederick Brown Jr. Amphitheater: Affectionately nicknamed "The Fred" by locals, this 2,500-seat open-air music venue is perfect for a summer concert. Check out the website for the upcoming show line-up and get your tickets.
Explore by Golf Cart: As mentioned above, you can explore the entirety of Peachtree City by golf cart on the interconnect pathways. For more information on golf cart rentals, here's a great resource.
Flat Creek Nature Area: This 513-acre wetland extends 3.5 miles along Flat Creek. You'll find a mulch trail, a 1,200-foot boardwalk, and two viewing platforms with benches.
Grab a Beer at Line Creek Brewing: As a relatively new addition to the South Metro Atlanta craft brewing scene, Line Creek Brewing Company serves as a hub of activity for live music, food trucks, and catching a game. The outdoor fire pits offer the perfect setting relaxing evening!
Dinner at The BeiRut: One of the best things to do in Peachtree City is to make a reservation at this fantastic Lebanese restaurant. The interior is elegant, and they offer flavorful international dishes and a lovely wine list.
Shopping at The Avenue in Peachtree City: As the premier shopping and dining hub in Peachtree City, you'll want to stop by here to visit the luxury shops and grab lunch or dinner.
Peachtree City Farmers Market: For locally-focused shopping, the bi-weekly farmers market showcases more than 60 farmers and artisans, offering the freshest produce, homemade bread, jams, local honey, crafts, and so much more. Every Wednesday and Saturday.
Recreation at Lake Kedren and Lake McIntosh: These lakes in Peachtree City are available for public use for boating, fishing, and swimming.
Tour the Famous Filming Locations: There are several filming locations for the cult classic The Walking Dead in this area. One of the best things to do in Peachtree City is to take a self-guided tour of where this famed show took place. If you'd like a guided tour, check out the options from Southern Hollywood Film Tour.
Stop by the Dixie Wing WWII Aircraft Museum: Tour the collection of WWII memorabilia and old aircraft in the hangar. For the very adventurous, book a private flight in one of the historic warbird airplanes.
For more personalized suggestions for more things to do in Peachtree City, feel free to ask your knowledgeable innkeepers during your stay at our Georgia Bed and Breakfast.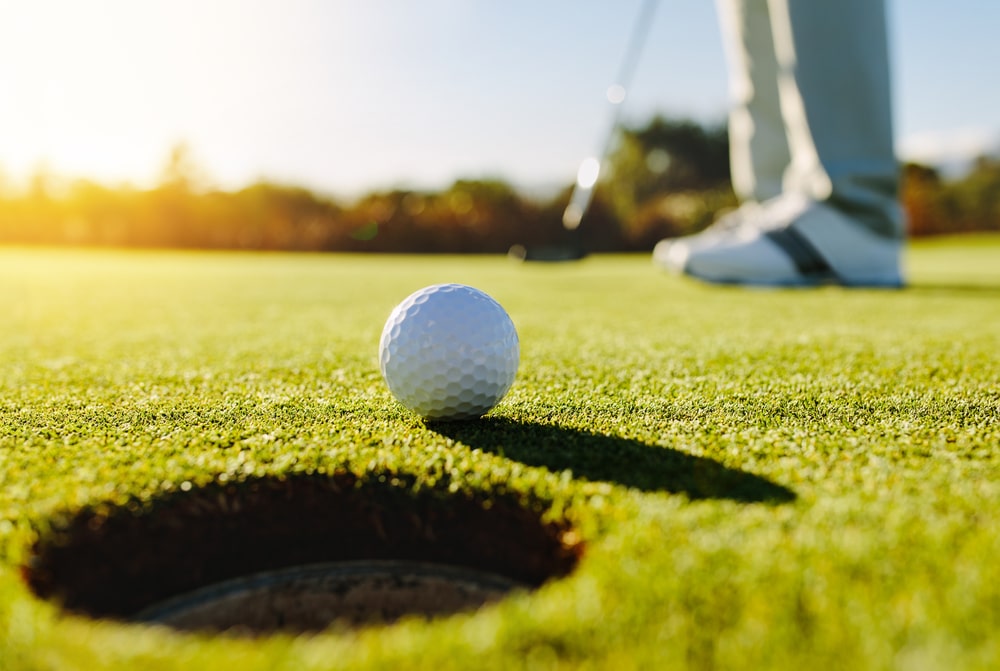 Tee Up at These Peachtree City Golf Courses
One of the most popular things to do in Peachtree City is hitting the links! There are five main Peachtree City golf courses, with another 25+ in the surrounding area. The five courses in Peachtree City all require a membership, but when you join, you'll have access to 135 holes of golf!
Here are the five golf courses at the nearby Peachtree City Golf Clubs:
Braelinn Golf Club: Play 18 challenging, tree-lined holes of golf and enjoy the plentiful amenities, including swimming, tennis, fitness, and dining. This is by far one of the most popular things to do in Peachtree City for golf enthusiasts.
Flat Creek Country Club: You'll find three distinctive 9-hole courses at this Peachtree City Golf Course, exciting amenities–including an interactive golf lounge, and much more.
Whitewater Golf Club: A stately gem in the Peachtree City/Newnan area with an Arnold Palmer-designed course, activities, amenities, and a lively social scene.
White Oak Golf Courses: Members will find two very distinct layouts here. The traditional Old Course and the more modern designed Seminole Course. Both courses provide golfers of all skill levels for enjoyable rounds.
Canongate I Golf Club: Just about 15 minutes from our Georgia Bed and Breakfast, you'll find 36 spectacular holes, as well as a state-of-the-art practice facility, tennis, dining, and much more.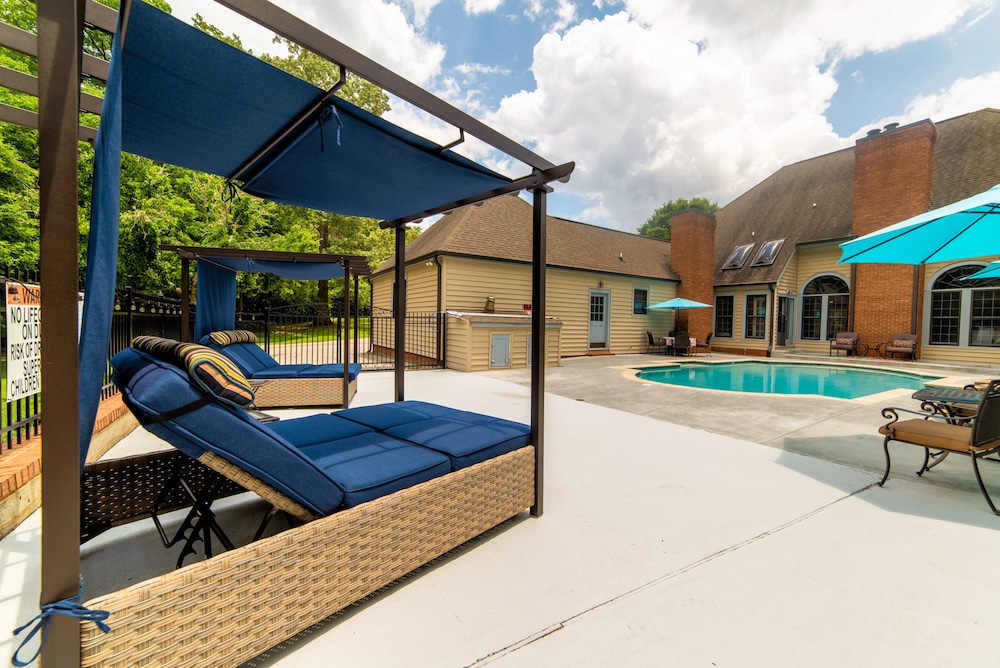 Relax and Refresh at our Georgia Bed and Breakfast
If you're looking for a special and unique place to stay on your next visit to the South Metro Atlanta area, our Georgia Bed and Breakfast fits the bill to a tee. Not only will you have access to our picturesque grounds, equipped with a pond for fishing and shady seating areas, but you'll love spending the day poolside. Take a dip in our saltwater pool, hit the hot tub, and relax in our comfortable shared spaces.
Our spacious Victorian-style mansion is designed with privacy and quiet in mind—with only four guest rooms; you'll never run into unexpected crowds or experience unwanted noise—always a possibility at larger chain hotels. We pride ourselves on a level of hospitality with attention to detail that's unparalleled. From the small things like linens, towels, and toiletries to the bigger elements, including breakfast and cleanliness, you'll quickly see that our Georgia Bed and Breakfast is a stellar example.
Speaking of breakfast, our guests rave about our morning options that bring a fusion of Southern cuisine by way of California specialties. We aim to create dishes that will leave you feeling nourished and ready to set out and explore the nearby areas, including all of the best things to do in Peachtree City. Join us in Fayetteville for your next getaway and book a room at the premier Georgia Bed and Breakfast today!