The Fred in Peachtree City is one of Georgia's best open-air concert venues. The amphitheater has been welcoming talented acts and thousands of concert-goers for more than 30 years. While the full name for this establishment is Fredrick C. Brown Amphitheater, named after the former Peachtree City Mayor and affectionately nicknamed the Fred in Peachtree City by the locals.
The McIntosh Trail Arts Council initially installed the venue, which commissioned the building of a 1,600-seat outdoor facility to showcase a play entitled "The McIntosh Trail." Over the years, the city of Peachtree purchased the venue and welcomed weekly McIntosh Opry, showcasing local, regional country, bluegrass music, and clogging acts. The Fred in Peachtree City of today hosts big-name stars in all genres, from pop and country to rock and classical music.
Before you book your tickets at The Fred in Peachtree City, you'll want to reserve your lodging at the Pleasanton Courtyard Bed and Breakfast—the perfect space to sit back and relax. Our Fayetteville Bed and Breakfast offers only four impeccable guest rooms, you'll often feel like you have our entire spacious Inn to yourself. Lounge poolside at our seasonal outdoor saltwater pool, soak in the hot tub, or enjoy time in the sauna, walk our peaceful grounds, and let the stress melt away. Book your room today!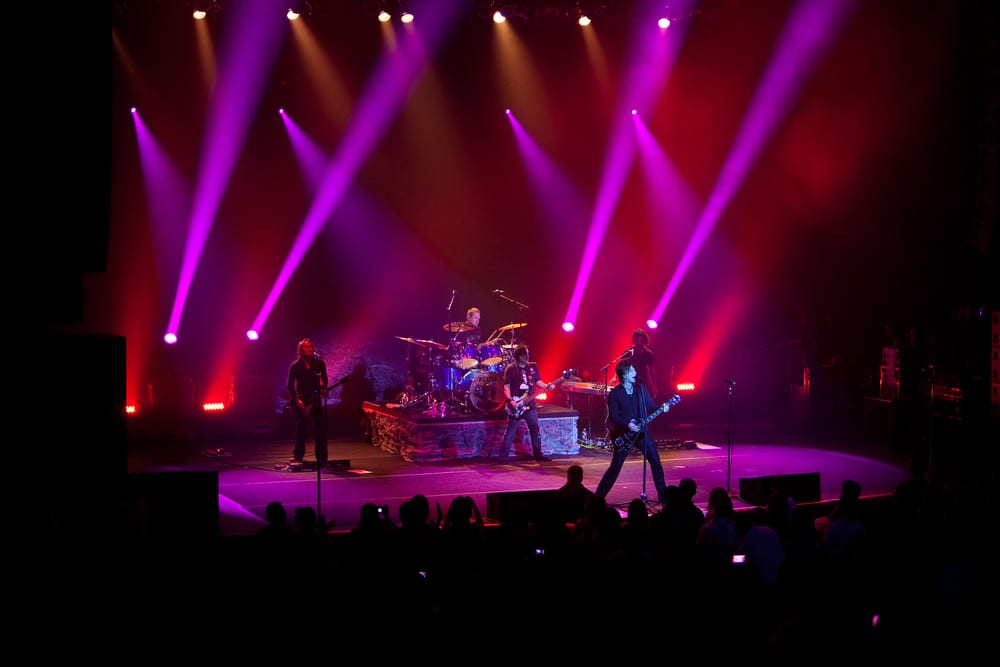 Grab a Show at The Fred Peachtree City & More
Catching a concert at The Fred in Peachtree City is one of the best things to do in the area! And the lineup for this spring and summer looks packed with great shows and performers. You'll find a lovely selection of food and drink options (including beer, wine, and cocktails) at the concession stand. Concert-goers are also allowed (and encouraged) to bring their own food and drink options—what's more fun than a concert in the warm open air and a picnic?
The 2023 concert lineup at The Fred in Peachtree City covers the spread, from rock and roll to classical and everything in between. June welcomes The Grand Funk Railroad, Rick Springfield, Toad the Wet Sprocket, Morris Day, and the Atlanta Metro Orchestra, playing the music of Def Leppard. Later in the summer, you'll see acts including Belina Carlisle, Carpool (a Cars tribute band), the Black Jacket Symphony presenting Saturday Night Fever, and Cheap Trick. Tickets often sell out in advance, so head to The Fred in Peachtree City website and buy today.
More Things to do in Peachtree City & Fayetteville near our B&B:
While watching a show at The Fred in Peachtree City is a must, there are many other fun things to do in Peachtree City and the Fayetteville area. Here are a few activities to add to your itinerary:
Tour the Local Georgia Movie Studios: Atlanta is often called the "Hollywood of the South," and many studios and filming locations are available for tours. If you'd like a guided tour, check out the options from Southern Hollywood Film Tour.
Explore by Golf Cart: You can explore the entirety of Peachtree City by golf cart on the interconnected pathways. For more information on golf cart rentals, here's a great resource.
Golfing in Peachtree City: There are six courses in the area, offering golf lovers more than 80 holes to explore, and country clubs offering exclusive amenities.
Excellent Fine Dining: A few of our favorite restaurants to recommend to our guests are in Peachtree City, be sure to check out The BeiRut for flavorful Lebanese fare, Franks at Old Mill for Medeterainan specialties, and the HB Studio Cafe located at Trillith Studios.
Starr's Mill Park: This beautiful park offers a historic bright red structure and waterfall, worthy of an Instagram post.
For more recommendations for things to do near our Fayetteville Bed and Breakfast, feel free to ask your personable innkeepers during your stay!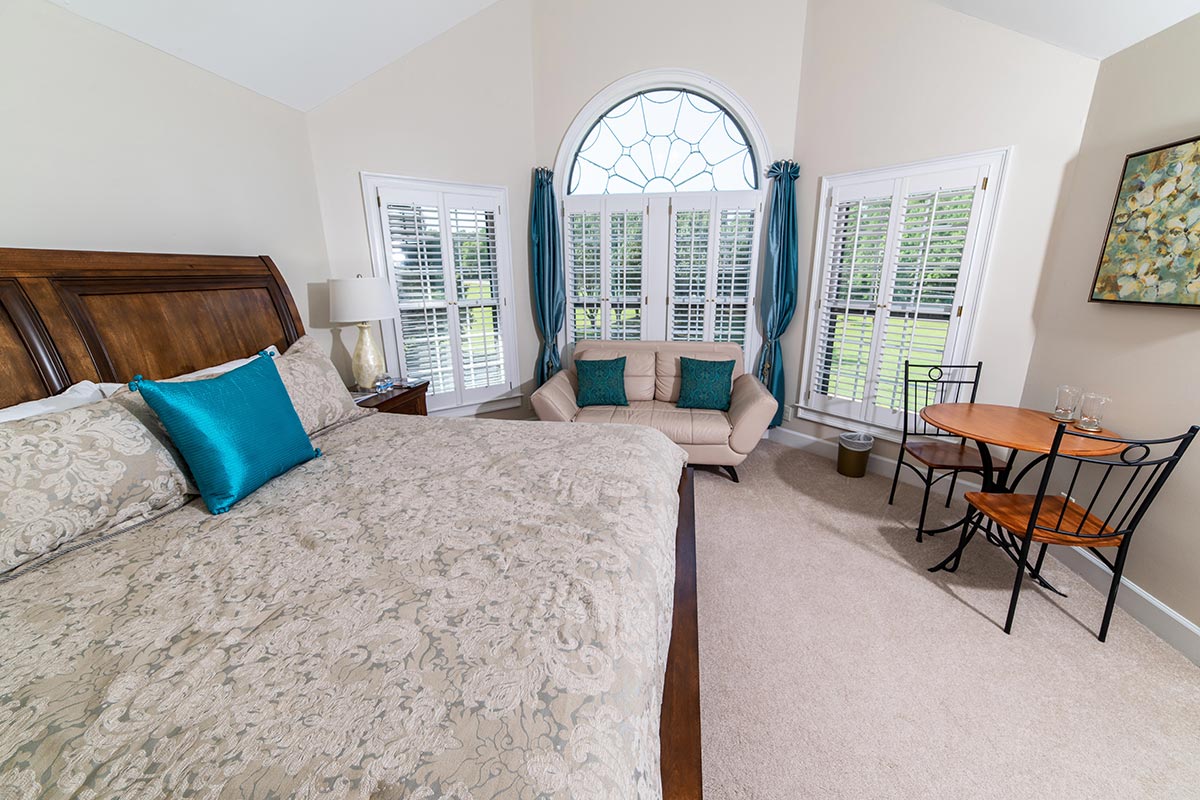 The Best Fayetteville Bed and Breakfast in Georgia
Though catching a show at The Fred in Peachtree City is always a welcome activity, the best reason to head to the South Metro area of Atlanta is the chance to stay at Pleasanton Courtyard, an elegant Fayetteville Bed and Breakfast. We offer guests a choice of only four well-appointed guest rooms, each of which is unique in decor and equipped with a broad range of high-end amenities.
Aside from the luxe accommodations, what you'll really find at our Fayetteville Bed and Breakfast in Georgia is the peace and quiet you crave. The rural nature of our property is designed to be your oasis away from the city, where you're free to stroll the green lawns, fish on the lake, relax at the seasonal saltwater pool, take in a movie in our theater room, soak in our indoor hot tub, or cuddle up on the wrap-around porch.
The hospitality doesn't end there, though. We'll treat you to a wholesome and flavorful breakfast each morning, featuring a rotating selection of our favorite recipes. We have a great selection of vegan recipes, and we're happy to accommodate guests with other dietary preferences (just let us know in advance when you make your reservation.) Spring and Summer are the best time to get your getaway on the calendar; book a room at our luxury Fayetteville Bed and Breakfast in Georgia today!