The travel industry has evolved a lot over the past few years, and one of those changes is that people are seeking accommodations that offer personalized service. You'll find just that at our intimate Bed and Breakfast in Georgia. A recent Tourism Review News study found that "Eighty-six percent of respondents said they want recognition and personalization when they travel." Instead of cookie-cutter hotels, people seek destinations and experiences tailored to their needs.
At Pleasanton Courtyard Bed and Breakfast, we take pride in our caliber of hospitality. With only four spacious rooms in our 8,000-square-foot Victorian-style home, each with its own en suite bathroom, you'll never encounter crowds or unwanted noise at our Bed and Breakfast in Georgia. Our Inn is also situated on nineteen acres in a rural setting, so you'll feel a world away from the hustle and bustle of the busy metropolitan areas. All while being just about 15 minutes from the Hartsfield-Jackson Atlanta airport, ten minutes from Atlanta Metro Studios, and a half-hour from downtown Atlanta.
Fayette County is one of the undiscovered gems in the South Atlanta Metro area. You'll find plenty to do nearby, including award-winning restaurants and breweries, golf courses, and the best Atlanta movie studios. Our Bed and Breakfast in Georgia is the ideal destination for a romantic getaway for two, a comfortable space for business travel, and perfect for girlfriend getaways. You'll love our morning breakfast service, relaxing by the pool in the sunshine by day and retreating to your intimate guest room in the evening. Book your room at our Bed and Breakfast in Georgia today!
5 Reasons to Stay at our Luxury Bed and Breakfast in Georgia
If heading to Atlanta or exploring the surrounding suburbs this year is on your list of travel plans, our Bed and Breakfast in Georgia is the perfect home away from home. Unlike local chain hotels, everything is included with your room rate instead of nickel and diming your stay. You'll have personalized service, modern touches, parking, and complimentary luxurious amenities. Plus, we'll treat you to a lovely breakfast each morning of your stay—the best way to start your day on a getaway.
Here are five reasons to stay at our intimate Bed and Breakfast in Georgia:
Our four elegantly-appointed guest rooms are the first reason to choose our Georgia Bed and Breakfast. Each room has unique decor and layout, but all offer luxury linens, plush towels, TVs, free wi-fi, plush robes, yoga mats, a hairdryer, and more. You'll rest easy in your big, comfortable bed and relax in the peaceful surroundings. The Palo Alto Suite is the best choice for romantic getaways, equipped with a King four-poster bed, fireplace, and a claw foot soaking tub.
Our charming location is ideal! Surrounding our beautiful 8,000 square foot Inn is nearly 20-acre lush, wooded grounds, including a picturesque pond perfect for a serene afternoon of fishing. Find comfortable chairs on the wrap-around porch. We're tucked on a quiet, rural road with complete privacy. For those who hope to head out and explore, our Bed and Breakfast in Georgia is just 15 minutes from the Hartsfield Atlanta Airport, a few miles off I-85, and only a half-hour from all of the best things to do in Atlanta.
One of our favorite amenities to offer our guests is our beautiful saltwater pool. Not all lodging properties in our area offer this perk! Spend the hot summer days poolside, under an umbrella, with a refreshing glass of iced tea. Inside, you'll find a hot tub and sauna room, perfect for a quiet evening soak reconnecting with your partner or finding some solo time to reset. Our other common rooms include sitting areas with comfortable couches, a movie theater room, and a spacious chef's kitchen.
We subscribe to the adage that breakfast is the most important meal of the day! Guests are served a "chef's choice" two-course gourmet breakfast with a seasonal menu of flavorful West Coast-meets-the-South recipes. The first course always includes fresh fruit or pastries. And the main course includes breakfast favorites, prepared with whole and unbleached grains, like our signature "Corn Meal Waffle." We're happy to accommodate dietary restrictions and preferences whenever possible.
Our wonderful Innkeepers are what truly make your time at our Bed and Breakfast in Georgia memorable. You'll be welcomed with genuine hospitality and comfort and can provide personalized recommendations on local activities. They are committed to offering you a quality experience from the minute you arrive to the minute you leave. Their kindness, humor, and charm bring back guests time and again!
We can't wait to host you at Pleasanton Courtyard—the best Bed and Breakfast in Georgia!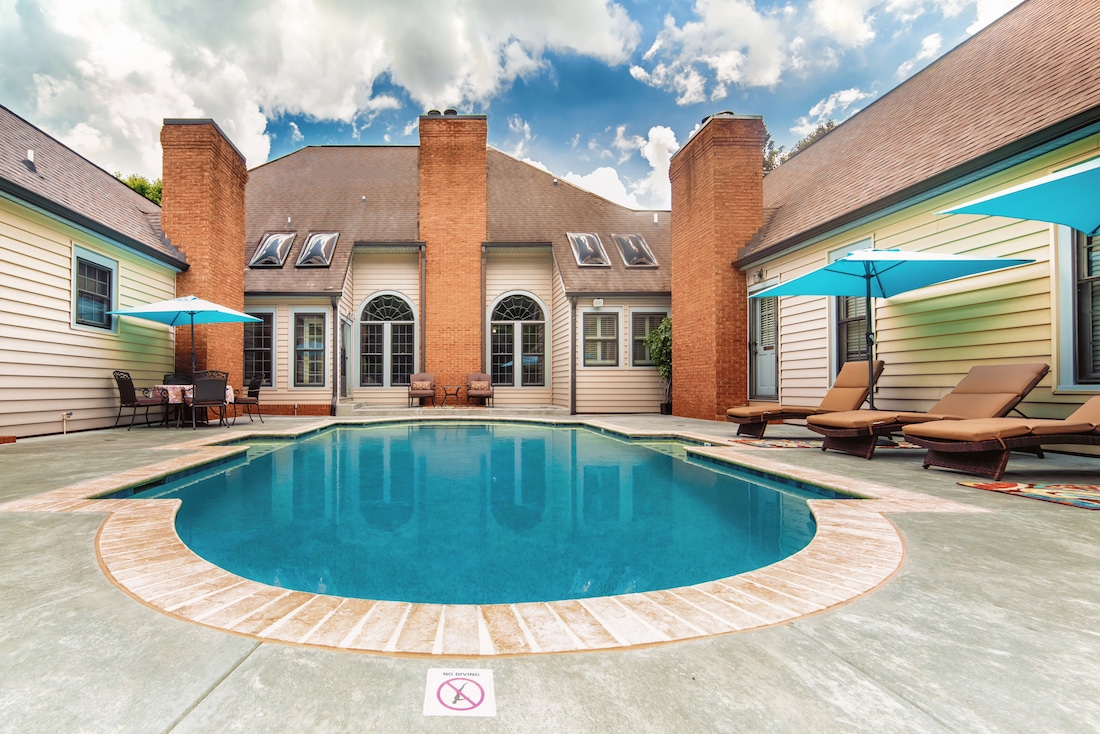 Best Things to do in Fayetteville, GA, near our B&B
As a guest at our Bed and Breakfast in Georgia, you'll be near some of the best activities in Fayetteville, Peach Tree City, and the South Metro Atlanta area. For those who can pull themselves away from lounging by the pool or relaxing in your luxurious guest room, here are the best things to do near our B&B:
Tour the nearby Altlanta Film Studios: Over the years, Atlanta and the surrounding areas have built up a reputation for being the "Hollywood of the South," with the film industry making a home here. That means guests can have the opportunity to get close to the action at Trilith Studios, Atlanta Metro Studios, and Raleigh Studios.
Hit the links: There are six golf courses in Fayette County, all offering exciting layouts and designs for a rousing or relaxing game of golf during your stay.
Dining out at the Fayette County restaurants: There's no shortage of excellent restaurants in Atlanta, but you won't have to go far to enjoy a memorable meal in our area. Our favorite local eateries are The BeiRut for flavorful Lebanese cuisine and HB Studio Cafe for new American and classic Southern fare for lunch or fancy weekend dinners.
Grab a beer at a local brewery: Head to Line Creek Brewing for a classic craft beer, and Arches Brewing has an outpost near our Bed and Breakfast in Georgia. There's no shortage of breweries in the Atlanta area as well!
Catch a concert at Fredrick Brown Jr. Amphitheater: Known as "The Fred" by locals, this 2,500-seat open-air music venue is a great place to catch a show this summer. Check out the website for the upcoming show line-up and get your tickets.
This is just the beginning of things to do in Fayetteville and the surrounding areas. We can't wait to welcome you to Pleasanton Courtyard Bed and Breakfast for your next getaway to Georgia. There's no better time to start planning your next vacation. Check out our upcoming availability and reserve your room today!